These images may not be reproduced, stored or altered without the written permission of the artists. All rights reserved.


"All Aboard" acrylic painting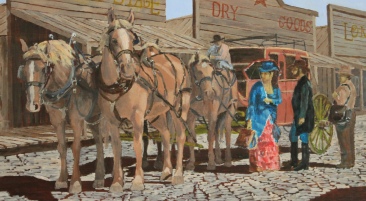 Jerry began drawing at the age of nine. His cartoons and drawings papered his bedroom walls. During his high school years, classmates commissioned him to draw portraits of themselves and their heartthrobs.
In the 1960s and early 1970s, using the lost wax technique, Jerry created Limited Edition bronze sculptures, which were sold in galleries in Taos, Santa Fe, Albuquerque, Dallas and Canyon, TX. In the late 1970s his interest turned to miniature silver and bronze sculptures and jewelry.
Today Jerry likes to tell stories with pencil, pen and ink, and scratchboard drawings. People relate to his subjects, whether a western scene with cowboys and horses, rodeo events, trains, or Civil War reenactments. Many of his drawings are available in Limited Edition Prints.
Book illustration is another of Jerry's talents. He drew the pen and ink illustrations depicting Civil War battle scenes for the Battle At Valley's Ranch (Glorieta, NM) (ISBN 0-943369-00-2). Edited and with an introduction by Dr. Marc Simmons, local writer and historian. The three major illustrations from the book have been made into Limited Edition prints and are collected by Civil War buffs.
Jerry also works in watercolor and acrylic. He is a past president and is a Signature Member of the New Mexico Watercolor Society. He served as Exhibitions Director for the New Mexico Art League, and served three years as Director for Nob Hill Art Gallery. Jerry shows his work at The Gallery ABQ in Albuquerque, NM, and is currently Treasurer.
Jerry and his artist wife, Tricia, have participated in hundreds of juried art shows, and they have won numerous awards for their art.
Jerry and Tricia raised Appaloosa horses for many years and now live in Tijeras, NM. Jerry retired from Sandia National Laboratories in 1998. Now he has more time to devote to his artwork.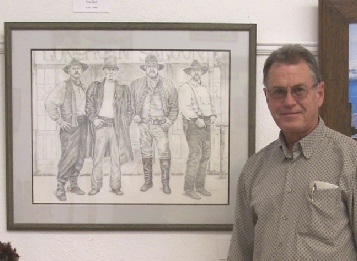 Jerry's Graphite drawing "Western Justice"
As a child I watched my grandfather plow his fields with a team of horses. My art reflects my grandfathers era when the horse was still the mainstream of development in America. I love to depict horses and people from those times.